One of the most exclusive areas in London is undoubtedly the area of Belgravia. This district is known for its exclusivity, with a total of no less than 4 Michelin-starred restaurants, beautiful white townhouses located in their own squares and crescents, and Hyde Park in its roster. But if you are thinking of renting office space in this special location, what do you really need to know? Let's have a look at Belgravia and what it has to offer.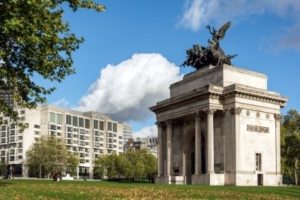 The history of Belgravia
In a nutshell, Belgravia was developed in the 1820s by Thomas Cubbitt under the direction of the Marquis of Westminster (not surprisingly, the family still owns much of the area today). Contemporary Belgravia still plays host to the royals, but this is also offset by its quirky café culture and its quaint village-feel.
Interesting streets of Belgravia
Belgravia is traversed by many interesting streets, one of which is Elizabeth Street, home to the Philip Treacy Fashion House (noted hat-maker to the royal family). As mentioned, Belgravia is comprised of a number of squares. Eaton Square was once the residence of Sean Connery, whilst Mary Shelley, the author of Frankenstein, lived on Chester Square. Of course, if you've been around since the 80s, then you probably know that our famous prime minister, Margaret Thatcher, was once a resident of Chester Square as well.
The properties of Belgravia
Belgravia is known for its traditional, elegant white stucco houses in its squares and crescents. The architecture of Belgravia is one of the reasons why it's a prime spot for both businesses and families – it's a great mix of traditional and classic townhouses as well as modern penthouses and flats along with houses on the mews (and they all usually come with their own parking spaces). If you're looking for the most desirable spots in the area, don't forget to check Chester Square, Eaton Square, and Wilton Crescent, just to name a few.
Links to public transport
Yet one more reason why Belgravia is an attractive enclave for businesses looking for office space is its proximity to public transport links. On the Underground, there are the Victoria, Circle, and District tube lines, and on the Overground, Victoria Station is connected to Gatwick Airport (and the rest of England's South East and southern coast) through the Gatwick Express. A good number of bus routes traverse the area as well, along with car access through Hyde Park Corner and Sloane Square.
Belgravia certainly has plenty to offer – but if you really want to make sure that you choose the right office space, you need to know an additional thing or two as well. Interestingly, Commercial People, a specialist in commercial property for rent, has released a clear guide on finding the perfect office for your needs, which can definitely help you in your quest for the best office space. Happy office hunting!
Image attributed to Phil_Bird/FreeDigitalPhotos.net