Penetration testing or white-hat hacking, as it is sometimes also called, is a simulated cyber attack through which vulnerabilities can be identified and tested. The objective is to protect organizations and their clients from data breaches. Many companies wrongly assume that they have effective cybersecurity measures in place. These assumptions can be costly to reputation and trust.
"Many breached organizations assumed their cybersecurity controls were effective, but never validated them. Unfortunately, the validation that the controls were ineffective came in the form of the data breach. A penetration test eliminates assumptions and reduces risk of a breach by validating the cybersecurity controls are working as expected." – Christian Espinosa, CEO, Alpine Security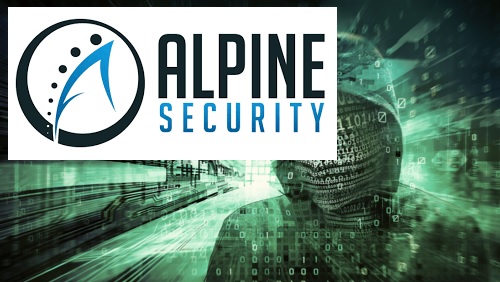 During a penetration testing, networks and systems are thoroughly analyzed and a detailed report of the results are presented to the client. The job of the penetration tester is to think like a hacker and to test (identify vulnerabilities and attempt to exploit) the networks and systems in scope, while emulating applicable threat agents.
An important part of the penetration test is to test an organization's incident response capabilities and to influence readiness in preparation of a real incident occurring.
Who needs Penetration Testing?
The healthcare, banking, and service industries are especially vulnerable and must ensure compliance to strict regulations. In these industries vulnerability assessment and penetration testing is essential for compliance and avoidance of hefty fines:
SOC 2 – Service Organization Control (SOC) members need SOC 2 compliance and must conduct an initial cybersecurity audit, including a penetration testing, followed by one every 180 days. Auditors must assure that five controls known as the Trust Service Principles: security, availability, processing integrity, confidentiality, and privacy are met. Penetration testing is a technical means used for this assurance.
HIPAA – Medical information is highly valuable as it includes social security numbers, insurance numbers, birth dates, and other confidential data. This information can be hacked, and the data used to commit identity fraud, obtain false prescriptions, and other crimes. The US federal law that governs the privacy, safety, and electronic exchange of medical information is known as the Health Insurance Portability and Accountability Act of 1996. HIPAA requires that medical institutions perform regular penetration testing to validate their data security.
PCI DSS – The Payment Card Industry Data Security Standard is the legislation that governs how customer card data is managed. Providers have a long list of regulations to comply with regarding vulnerability assessment and penetration testing. The cost of reducing data breaches is a fraction of what an actual breach can reach.
Other Businesses – Recently, Business Insider reported that according to recent research data breaches were costing US businesses huge amounts. Besides the impact of cost, data breaches also take time to resolve and also result in customer loss.
Mistakes to avoid when choosing a Penetration Testing Provider:
Highly discounted offers, which are most likely an automated vulnerability assessment. Alpine Security uses multiple tools and manual analysis to run a comprehensive penetration test.
Not validating that fixes have been implemented and that they work against threats. A "retest" is essential for this.
Not getting a Letter of Attestation as proof and assurance that your network and systems have been tested.
Vendors who don't follow a documented process, outlined by a Rules of Engagement document.
Not being told what type of penetration test is needed for your environment. The most common type of penetration test is the Black Box Penetration Test, but if your company has web applications you may also need a Gray Box Penetration Test.
Not receiving a debriefing report on completion with detailed steps and reproducible results. Alpine Security walks you through the report so that you understand findings and what actions are required to remediate.
Alpine Security Services:
Alpine Security offers complete penetration testing solutions in order to reveal existing vulnerabilities to your networks and systems to improve security. Not all vulnerabilities are easy for a hacker to exploit, but Alpine Security can point out which are and how your security strategy can become more effective. The idea is to reduce the risk of a data breach. Presenting you with a Letter of Attestation as assurance to clients, suppliers, and regulatory agencies proves you are exercising cybersecurity due diligence.
Benefits of Using Alpine Security:
Alpine Security has many years of combined experience within the private and public sectors. Alpine Security has a long list of the necessary certifications and credentials required. Each team member not only embraces core values but is also highly certified in their respective field of expertise. We will run both manual and automated testing and document the whole process while also protecting all your data before, during, and after the test. Alpine Security's passionate team keeps up with all the latest cybersecurity strategies in order to always keep you informed and your data secure.
Although most regulations require testing once or twice a year at the most, we recommend a quarterly penetration testing program.
Article contributed by Alpine Security